The Original Maxwell Street Polish Sausage Stand™
Jimmy Stefanovic created the first Maxwell Street Polish Sausage Sandwich in 1943.
For those of you who may be so unfortunate as to never have tasted a Maxwell Street Polish Sausage Sandwich, we will try to explain it as best as possible; yet, there are no words in any language known to man that can adequately describe this world-famous and much imitated sandwich.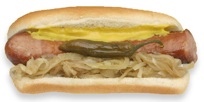 The sandwich starts off simple in ingredients but results in a complex mix of spices, garlic, crunch, meatiness, sweetness, and hot. We flat grill an almost one-third pound specially prepared and smoked pork and beef polish sausage, the same recipe and taste for 70 years, until the casing achieves a light crunchy texture.
On that same grill we slow cook pounds of sweet onions until they are almost transparent, perfectly caramelized and melt-in-your-mouth ready.
To assemble the sandwich we smear bright yellow salad mustard on the inside of a white hot dog bun, then place the freshly cooked polish sausage inside. On top of the sausage we heap a pile of the sweetest grilled onions on earth. Then we finish the sandwich off with a couple of hot sport peppers, wrapping it in wax paper and placing it in a brown paper bag.
Want to chase it down with a grape pop? We'll throw that in a brown paper bag too, as it was done in Jim's time.
To this day will still have the polish sausage specially prepared for us according to Jim's special recipe.
Others have imitated, but only Jim's has perfected the subtle blend of every ingredient that makes this sandwich truly World Famous.
---